Farmers Market Tote Bag pattern
|
All posts may contain affiliate links.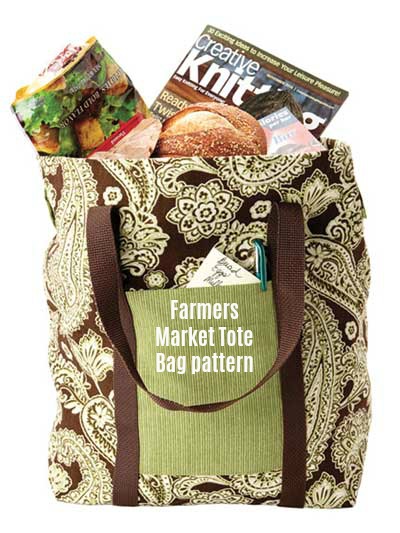 This is the Farmers Market Tote Bag which its designer describes as the perfect market bag. If you would like to try out the pattern for this lovely tote bag then you should click on the link at the end of this article.
Save the planet from plastic grocery bags by sewing your own strong and reusable market tote bag. Keep it tucked in the glove box of the car so you have it to hand if you drop into the store at the end of the day to pick up a few things for dinner.
If you have ever tried to fill a canvas bag at the grocery store you will know that it can be very frustrating as it flips and flops all over the place and won't stay open. The designer of this tote bag has designed it to be the exact right size to fit the chrome bag stands that many stores have at the checkout.
The Farmers Market Tote Bag is fully lined so that it is extra sturdy for all of your grocery needs. A pocket at the front has been added for you to keep your grocery list, keys and phone.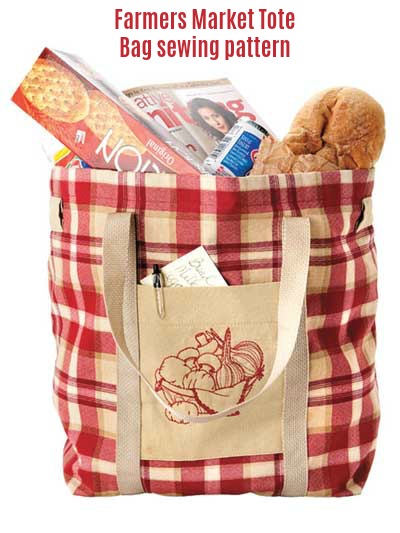 When you have finished making a Farmers Market Tote Bag it will measure approximately 15″ tall by 12½" wide at the bottom and 21″ across at the top. The pocket is 8″ tall by 6″ wide. The designer says her bag pattern is perfect for an intermediate sewer, but we think even a beginner could try out this pattern.
Find even more Tote Bag Sewing Patterns here
Do you want lots more tote bag sewing pattern ideas? Why not follow the Sew Modern Bags board dedicated to our favorite tote bag sewing patterns here. Pin and save your favorite bag sewing patterns to your own boards for later. Don't forget to pin this article too.
Sew more tote bags and you'll be happier - we promise 😉
When you just need to sew and don't want to get into a really complicated project, you can't beat a classic sewing pattern for a tote bag. We've got 50 of our favorite tote bag patterns hand-picked for you in the store. Go to the shop page to find them all saved by category.