Drawstring Storage Bin FREE sewing pattern
|
All posts may contain affiliate links.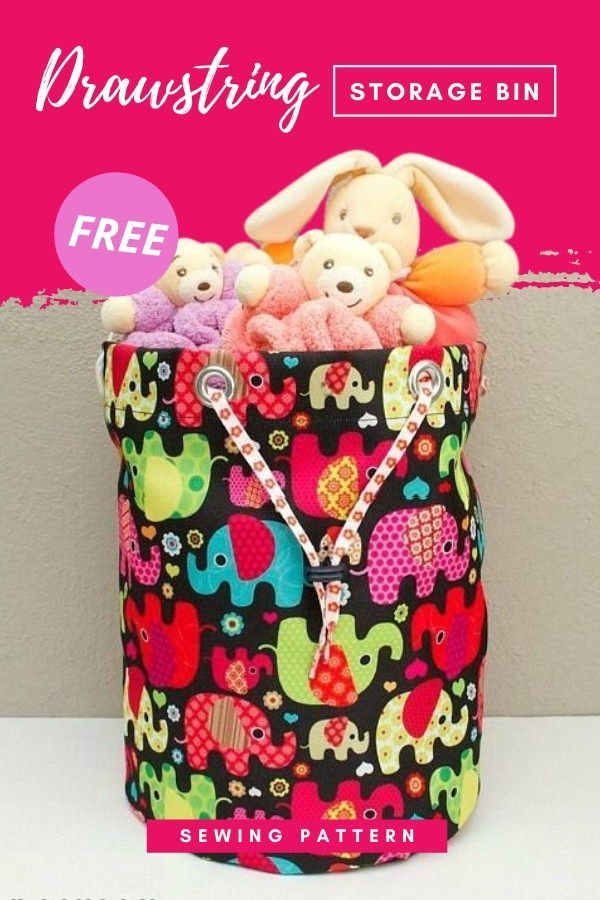 Here's your chance to make an indestructible, quick sew, drawstring storage bin. As a super-bonus the awesome designer, Sew Can Do, has given us this sewing pattern for FREE.
If you have kids you'll know that a lot of them have a lot of stuff, and storing all that stuff is a big challenge. With all those toys, clothes, gear, etc. it would be nice to have some colorful fabric storage bins instead of all ugly plastic tubs.
The designer has children and designed these for her own little ones. So as the designer says now is your chance to make the ideal bin that can hold and hide just about anything. It's easy to make, looks decorative and, most importantly, kids can't really destroy.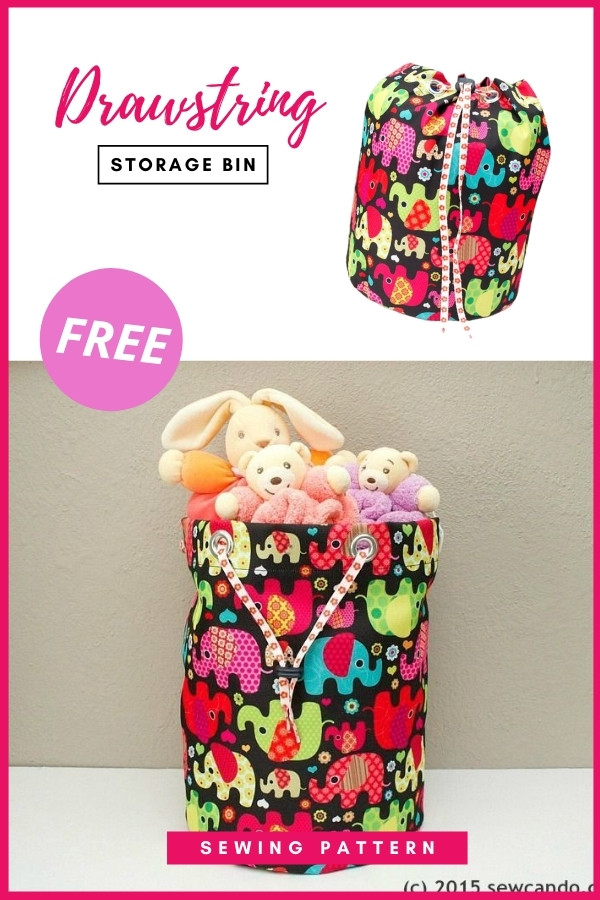 Now usually, homemade bags or bins look great at first, but after a couple of months of active kid use they can look shabby or wear out with holes or stains. However, the designer got around these problems by choosing a waterproof 100% polyester fabric that was finished with a durable water repellent and then laminated with a thin black polyurethane coating on the back.
The fabric the designer chose also has a bit more body than most other fabrics, so it'll hold its shape well just by being filled with soft toys or clothes. And its strong & waterproof quality inside and out means you can use it outdoors or for things that get dirty or wet like sports gear, laundry, outdoor toys, or cloth diapers and easily wipe it clean.
When the designer made hers the finished size was 12 inches high by 8 1/2 inches wide, which is good for most kid stuff, but you can always make it bigger or smaller to suit your needs.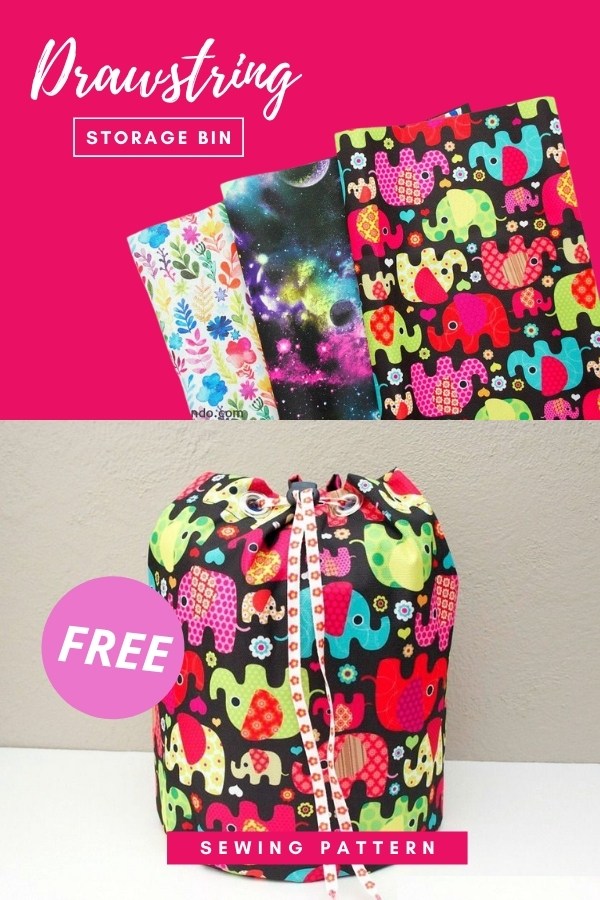 What you will need to make a Drawstring Storage Bin:-
1/2 a yard of waterproof fabric,
Six or more extra large grommets and a setting tool,
1 yard of drawstring, cord, or shoelace,
Double cord stop (in the notions section in most craft stores),
Hammer,
Pins, small clips, rotary cutter/shears, yardstick, plate or compass,
Optional: walking foot, pinking shears,
If you would like to download the pattern you can click on the purple button below
Click here for the FREE pattern
Liking this free pattern? Great! You would make our day if you 'bought us a coffee' to help with the site running costs. Thank you.

Want MORE Free sewing patterns?
Want to find more
FREE sewing patterns
for bags and more? Why not follow the Sew Modern Bags board dedicated to our favorite FREE sewing patterns here. Pin and save your favorite bag sewing patterns to your own boards for later. Don't forget to pin this article too.
We think you'll like these patterns for storage and organizers to sew
We know our readers just love to sew storage and organizer projects so we've got lots of them. We've handpicked some of our favorites to feature in our pattern store. These are some of the most popular that are readers are sewing now!