Devon Tote Bag sewing pattern
|
All posts may contain affiliate links.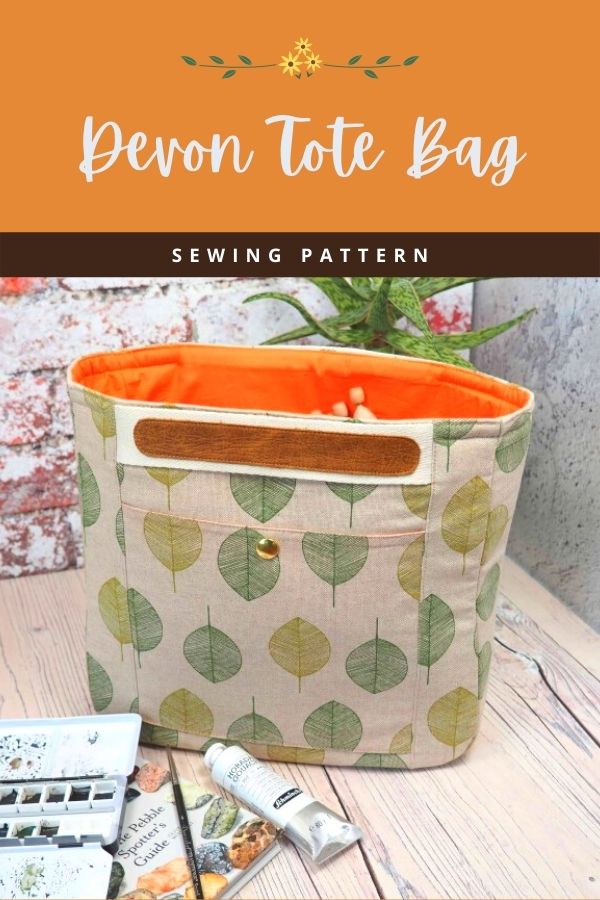 Sewing a bag is not a rodeo – no one wants a rough ride! The Devon Tote ushers in a new series of Folk Art Factory bags with all the nice details but made even easier.
This bag is perfect for occasions where you have a bit to carry but you want style too. And it is perfect as a project tote! The designer loves the way that it sits open so that you can access the contents but when you pick it up by the handles, it closes for security. There is some magic at work!
Best of all, it has a lovely divider pocket which is perfect for carrying precious things which need some extra security. There is a separate tutorial on that one if you need extra details, and it is actually easier to make than you think.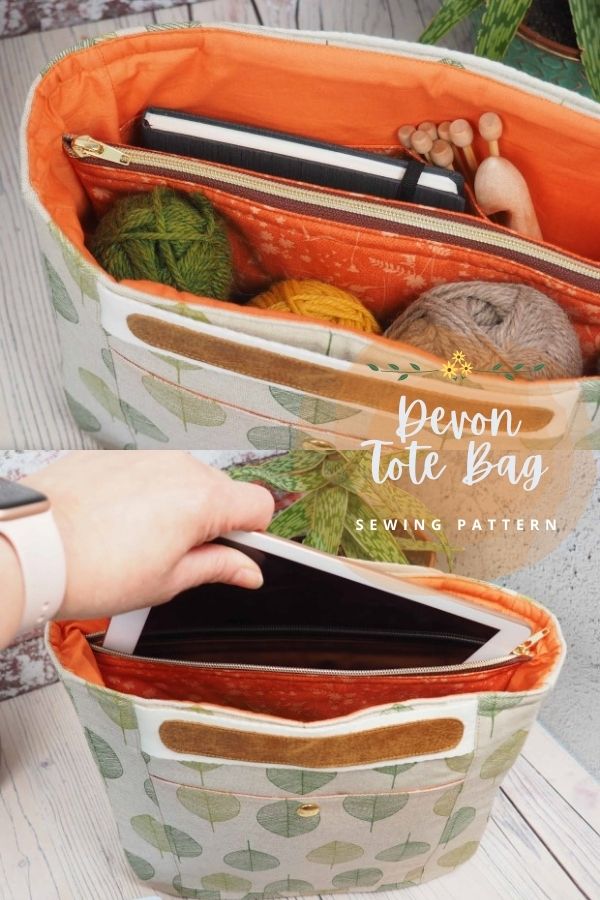 Skill level:
Confident beginner to intermediate sewist with some knowledge assumed. This pattern comes with some handy printable labels to help you to keep track of the pattern pieces. Simply print them off, cut them out and pin them to the pieces as you cut them out.
Don't forget that there are supplemental tutorials on the designer's blog which focus on the bits which can trip up some newbies – the zipper divider pocket in this case. Just look out for the links in the pattern instructions as you need them.
Sizing info:
11 ½" wide by 11 ½" tall by 3 ½" deep.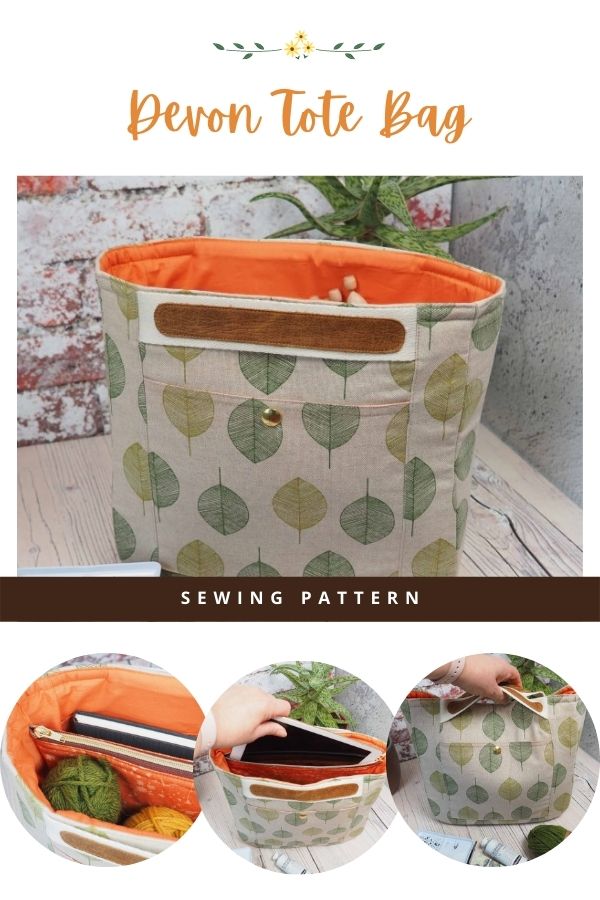 Suggested Fabrics:
Quilting weight cotton, denim, canvas, furnishing fabrics, linen, needlecord, waxed cotton, oilcloth.
Materials needed:
½ yard of canvas or similar weight fabric for the outer,
1 ¼ yard of cotton for the lining,
1 yard of Style-vil foam interfacing (Vlieseline),
14″ H630 lightweight fusible fleece (Vlieseline),
14″ G740 woven fusible interfacing (Vlieseline),
Two pieces of webbing, 1 ½" wide by 9 ½" long for the handles,
One ½" stud for the front pocket and the hardware to attach it. TIP: the sort of stud that you are after here is a metal press stud which is attached with a hammer and special hardware (usually supplied free with the studs),
One 12″ (#5) zipper for the divider pocket. The designer used a continuous zipper for this and if you are too, allow 1 ½" longer to account for the seam allowance,
Clear drying glue suitable for fabric,
Double-sided tape to attach the leather trim to the handle. Wash away, double-sided quilters tape works also works well,
Coordinating threads for all fabrics and trims,
Your usual sewing needs – including scissors, markers, and extra feet for your sewing machine (zipper foot for example). Consider a leather needle for your machine if you are using that option. You know, the usual stuff!
TIP: a Walking foot (Dual Feed foot) for your machine is also handy to get over some of the thicker layers. Some machines come with them.
The pattern:
This is a measure and cut pattern which means that you don't have any templates to print off and match up. You need a rotary cutter, ruler, and mat and you can cut the pattern pieces straight from the fabric. This is easier than it sounds because the pieces are all simple squares and rectangles.
This pattern is super detailed. You will receive 16 pages with 20 easy-to-see color photos to illustrate the steps, a companion blog post to help with the zipper divider pocket and handy printable labels to help you to keep track of the pattern pieces. Simply print them off, cut the labels out and pin them to the fabric piece as you cut. You will find the labels on a separate PDF so if you choose to print double-sided to save paper, you will not lose any of your pattern.
If you would like to download the pattern you can click on the blue button below.
And if you would like to see other bag sewing patterns from this designer then you can click on the red button below.
See all the patterns from this designer here
Even more tote bag sewing patterns you won't be able to resist
Want even more tote bag sewing patterns? These are the top best selling tote bag patterns in our store. Take a look at the tote bag category on our shop page for even more!