Day Off Backpack sewing pattern in adult and child sizes
|
All posts may contain affiliate links.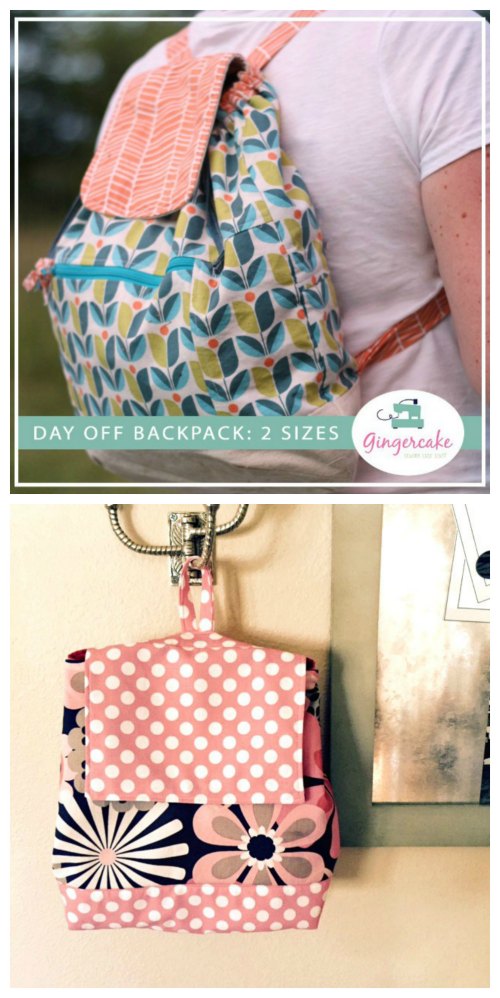 The designer of this wonderful backpack has made the sewing pattern in 2 sizes so that you can make one for yourself and one for your child. One of our favorite Gingecake sewing patterns! We think everyone should have one.
It's been designed to be simple to sew but it creates a fantastic and professional-looking bag. The Day Off Back Pack is sure to become one of your favorite new sewing projects.
Can you just imagine yourself walking the city streets or a country path wearing this stylish and practical backpack? It's the perfect accessory for your day off. Backpacks you buy in the store usually come in plain or boring (or cheap looking) fabrics. Now you can create a pretty custom backpack that you'll feel proud to wear. In fact, make several, then make some for the kids too.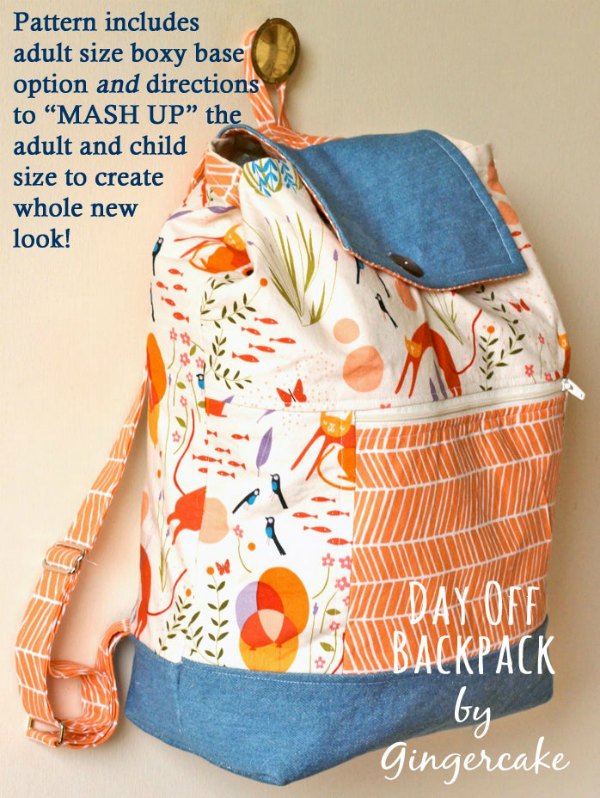 The finished adult size backpack has the following features:-
A curved flap with a magnetic snap.
A front zipper pocket.
A drawstring closure.
Adjustable straps.
It has a large interior lining pocket.
It has a darted or boxy base option.
It measures 15.5" by 17.5".
The finished child-size backpack has the following features:-
It's perfect for children ages 2-8.
A square flap with a button closure.
Instead of a drawstring closure, it has snap sides to give it a more boxy and trendy look.
Adjustable straps.
A boxy base.
It measures approximately 12" by 14".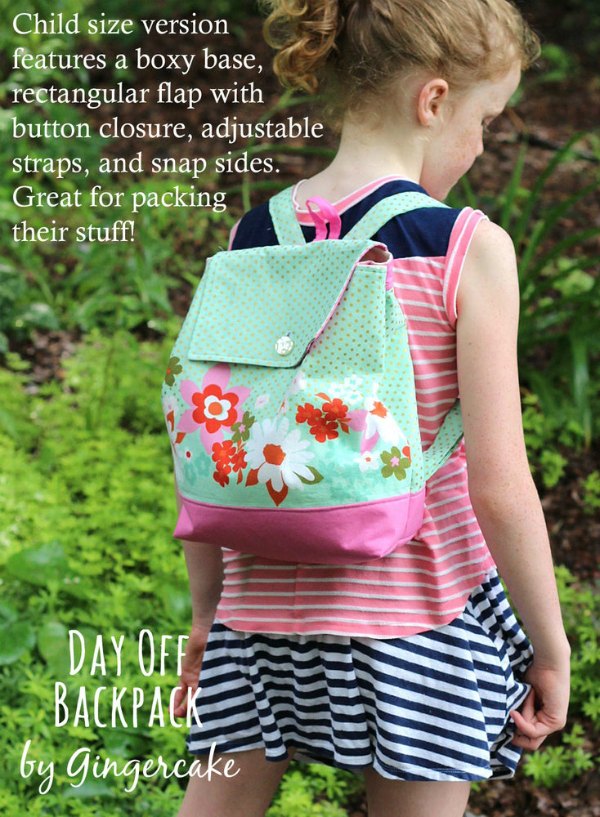 Because the designer has made two different patterns you will be able to create a more customized backpack if you wish. You can change the flap, add the snaps, omit the zipper pocket, add a drawstring, etc. There are lots of options to make the bag just how you want it. There is no need to settle for just the one style.
The pattern includes detailed instructions with clear color photos. It also includes fabric cutting guides for both sizes for your convenience. You have the option of printing out pattern pieces or following a pattern piece guide if you don't want to deal with all that ink and paper!
Get the pattern here in our shop
See all the patterns for this designer
More backpack and rucksack sewing patterns -->
Want to find more bags to wear as backpacks? Why not follow the Sew Modern Bags board dedicated to our favorite backpack and rucksack sewing patterns here. Pin and save your favorite bag sewing patterns to your own boards for later. Don't forget to pin this article too.