Clarendon Crossbody Wallet sewing pattern (+ video)
|
All posts may contain affiliate links.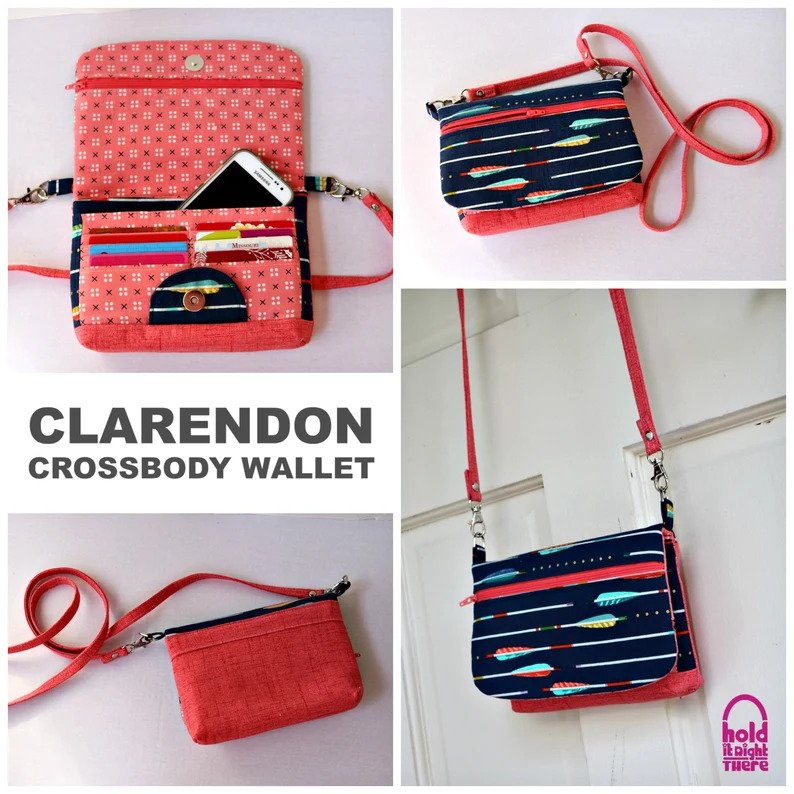 The Clarendon Crossbody Wallet is one of the bestselling sewing patterns from Hold It Right There. You can see from the wonderful pictures why this pattern is so popular. It really has it all! It's a purse, a clutch bag, a wallet, a shoulder bag, a cross body bag, and now as a bonus, add the optional tabs to turn the very same bag into a handy waist bag. Pick how you want to use it.
One of the most versatile patterns on our site, and loved by many sewers for good reason.
Not only are there all those options, but there is a full video sewalong too, so no matter how you choose to sew it and wear it, you won't put a stitch wrong.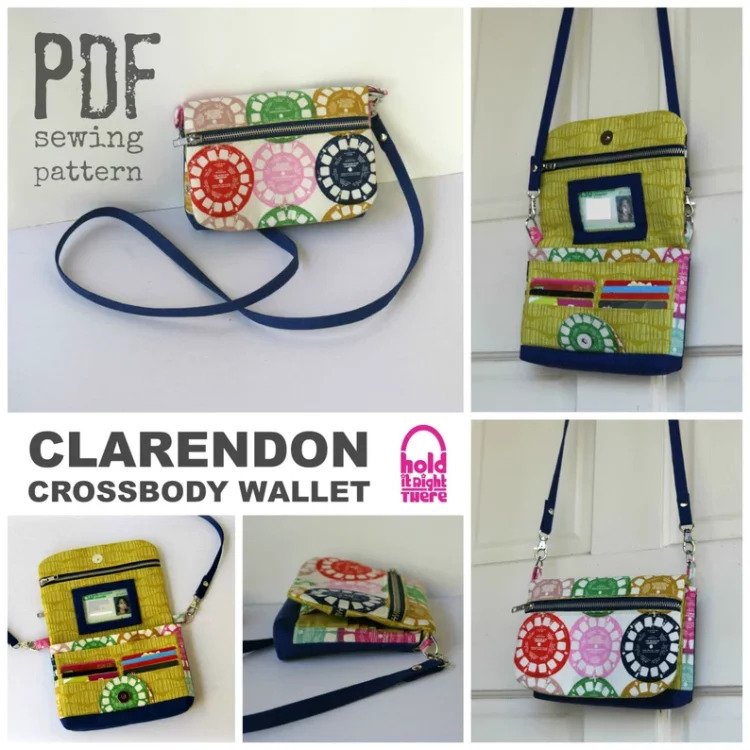 It's a small bag with many compartments and has the following features:–
A zipper pocket on the flap, ideal for your phone or other items you need instantly accessible,
An optional ID pocket,
A concealed zipper beneath the flap for coins, or other essentials,
With eight card pockets and a slip pocket, this wallet keeps your credit cards and money handy,
There is lining to hold the larger items a wallet alone cannot, with an additional slip pocket inside,
An adjustable strap to ensure the bag fits you exactly.
Check out the video sewalong and see if this pattern is right for you.
Sizing info:
When finished the wallet measures approximately 6″ high by 9 1/2″ wide by 1″ deep. We think you'll really like this one – give it a try!
Added bonus add-on:
You have the option to sew the Clarendon as a belt bag! Bonus instructions are included for Waist Belt Connectors to wear your Clarendon around your waist. The Waist Belt Connectors sew up quickly and easily. Choose from either the D-Ring Version or the Eyelet/Grommet Version. Clip the adjustable Waist Belt to the Ludlow Waist Belt Connectors, and off you go!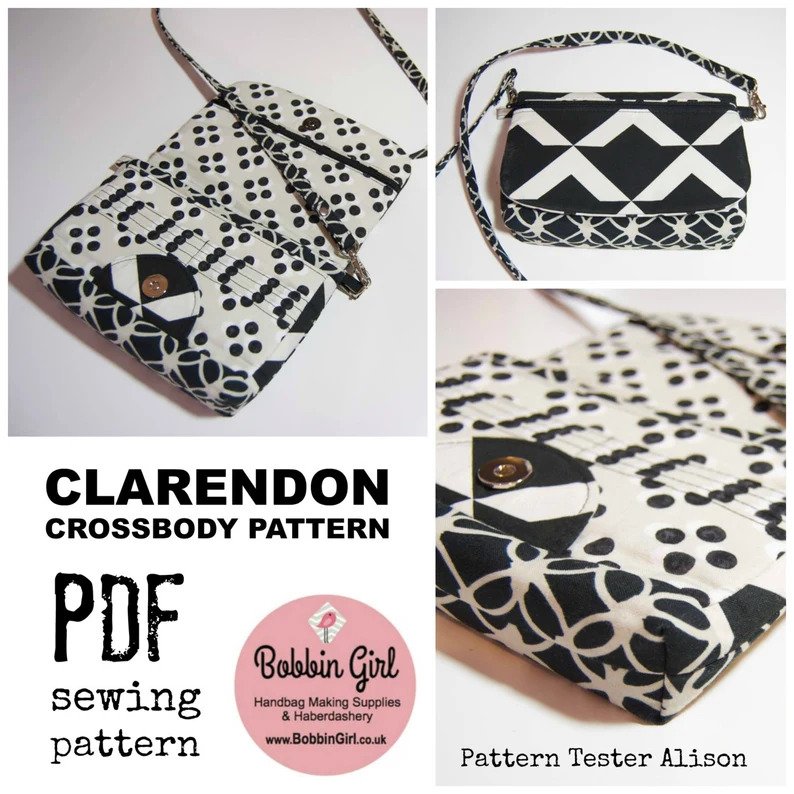 The pattern:
Full-color photos and illustrations accompany 16 pages of detailed, tutorial-style instructions. Patterns are included for both fabric and interfacing pieces. Additionally, dimensions are provided for square and rectangle pieces in order to use a rotary cutter and cutting mat. I include fabric and interfacing pattern layouts, and labels to keep your prepared fabric pieces organized while you sew. A team of 10 testers vetted this pattern, testing varied methods and interfacings, editing, revising, and clarifying — ensuring your successful outcome.
If you would like to download the pattern you can click on the blue button below.
And if you would like to see other bag sewing patterns from this designer then you can click on the red button below.
Want more wallet sewing pattern ideas?
If you love sewing wallets but this one isn't quite right for you, then don't worry, we have LOTS more wallet sewing patterns for you to choose from. Check out just a few from our selection here.