Casablanca Clutch Bag sewing pattern
|
All posts may contain affiliate links.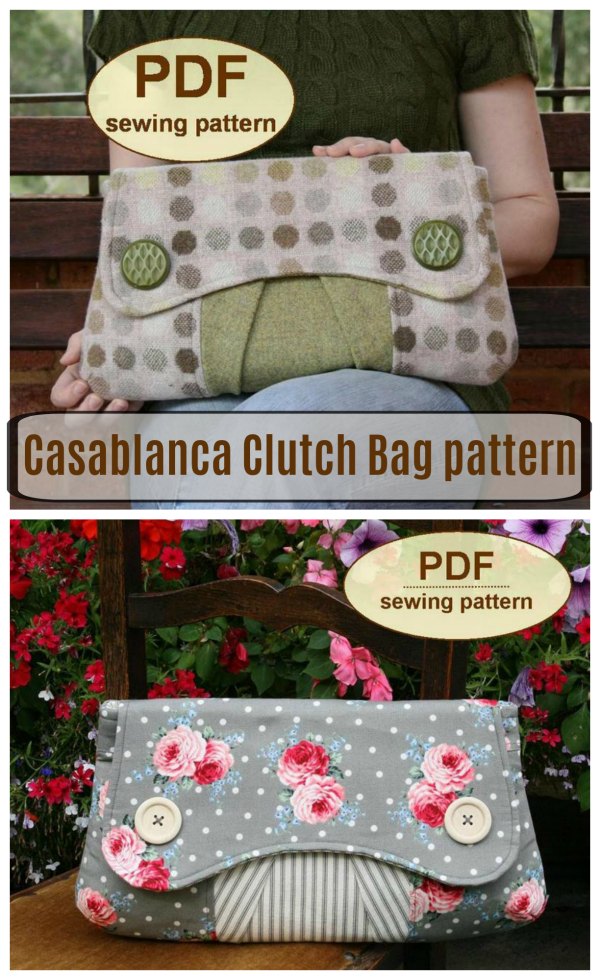 What a great name this is for a bag – the Casablanca Clutch Bag. The pattern is made by a very talented and well-known designer who gets her inspiration for her patterns from the 1930s to the 1950s.
The Casablanca Clutch bag gets its inspiration from the 1950s. This retro bag is also perfect for today as it combines the current popular large "over-sized" shape with pleat detail at the front and a sleek curved flap.
You can use two or three contrasting fabrics to make this beautiful bag and the flap is ideal for showcasing two large vintage buttons. If you want to add an interior pocket then the designer has included a template for you to use.
The Casablanca Clutch (formerly called the Good Housekeeping Clutch) when finished measures approximately 16" (40cm) wide by 9" (23cm) high.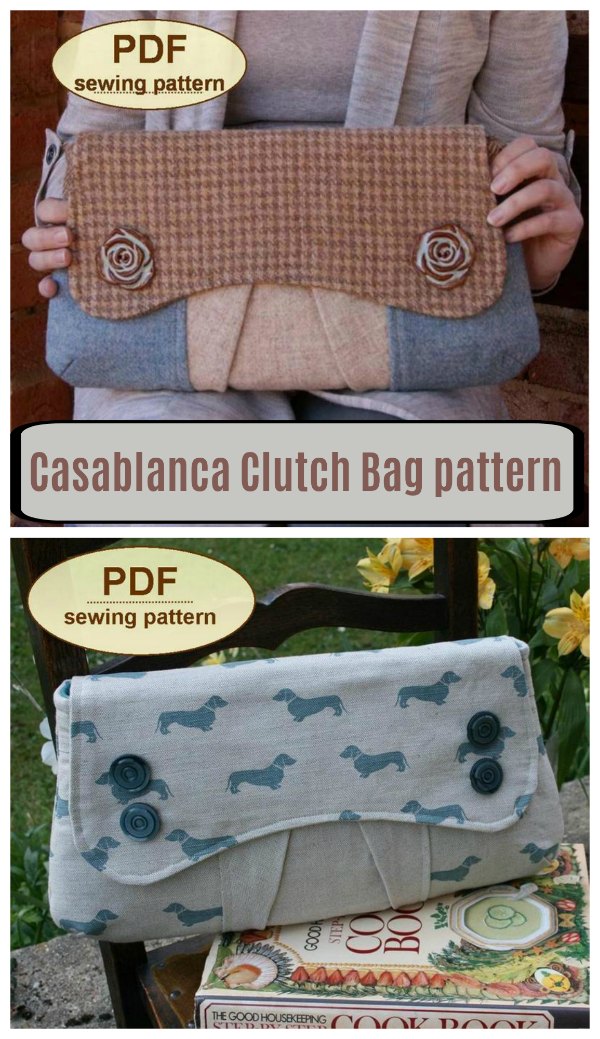 When you purchase this PDF pattern you will get 6 pages including photographs, detailed instructions and illustrations, plus a further 5 pages of full-sized pattern templates which you must print on letter (A4) paper and cut out. As some of the templates are too large to fit on one sheet, you must tape the templates together where shown, and instructions for this are very clear.
What you will need to make the Casablanca Clutch Bag
These quantities are based on a bag made from one fabric but with a contrast centre front panel. To make from more than two fabrics, you will need to vary the quantities below:
½ yard (50cm) of the main fabric
¼ yard (25cm) of contrast fabric
½ yard (50cm) of lining fabric
1/3 yard (30cm) of sew-in interfacing (plus optional the same amount in either wadding or quilted calico)
¼ yard (25cm) of fusible interfacing
Two magnetic snap sets (or Velcro/sew-on snaps)
Two large buttons
Thread to match the fabric