Carrie Convertible Purse to Tote sewing pattern
|
All posts may contain affiliate links.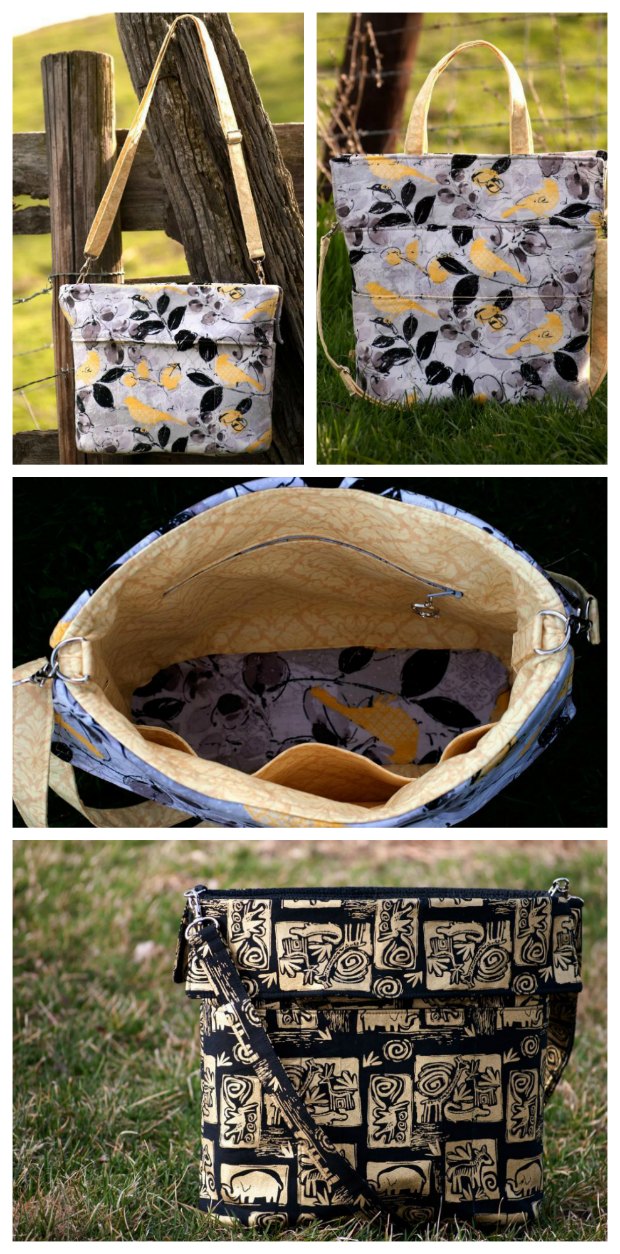 [UPDATE: This pattern was available on Craftsy until the big Pattern Purge of Dec 2018. Since then we've not been able to find it anywhere and have even written to the designer several times without reply. So our apologies, but so far as we know this pattern is no longer available. If you do find it, please let us know so we can update the link. Thank you.]
Click here for alternatives to this pattern
For the girl that likes options in her bag. The versatility of this bag will allow you to go from handbag to tote by simply folding down or leaving the handles fully extended.
Hidden magnetic snaps and unique fold down sides will allow you to go from handbag to tote while on the go! This bag features a bucket style bottom, lots of pockets and the option to carry three ways!
Easy to sew- GREAT for beginners. You should already be somewhat familiar with sewing patterns and common sewing terms. That's all!
Pattern features easy to install interior zipper pocket and no zipper foot required.
Sizing / Finished Measurements:
Measures: 14″ wide 11″ (flaps down) or 14″ Fully Extended 4″ Deep
Materials:
1 yard 44″ wide Main Fabric (1 1/2 yards is recommended if you are using directional fabric or want to "fussy cut")
1 yard 44″ wide Lining Fabric 2 1/2 yards
20″ Fusible Pellon SF 101 or a shaping Interfacing
1/2 yard Fusible Fleece (Pellon Fleece Thermolam Plus)
Small Piece Ultra Firm Fusible Stabilizer Peltex 71F- to measure at least 12 1/2″ x 4″ 9″ or larger
Coordinating Zipper
4 Hidden Magnets
Hardware: 2- 3/4″ Metal rectangles, O rings or D rings 1- 1″ slider 2- 1″ Swivel Hooks
Coordinating thread
Removable Fabric Marker (I recommend a Frixion gel pen as it can be removed by pressing with an iron)
Microtex (Sharp) Needle 80/12 -Recommended for topstitching through the thicker parts.
Sew more tote bags and you'll be happier - we promise 😉
When you just need to sew and don't want to get into a really complicated project, you can't beat a classic sewing pattern for a tote bag. We've got 50 of our favorite tote bag patterns hand-picked for you in the store. Go to the shop page to find them all saved by category.