Aurora Clutch sewing pattern (2 sizes)
|
All posts may contain affiliate links.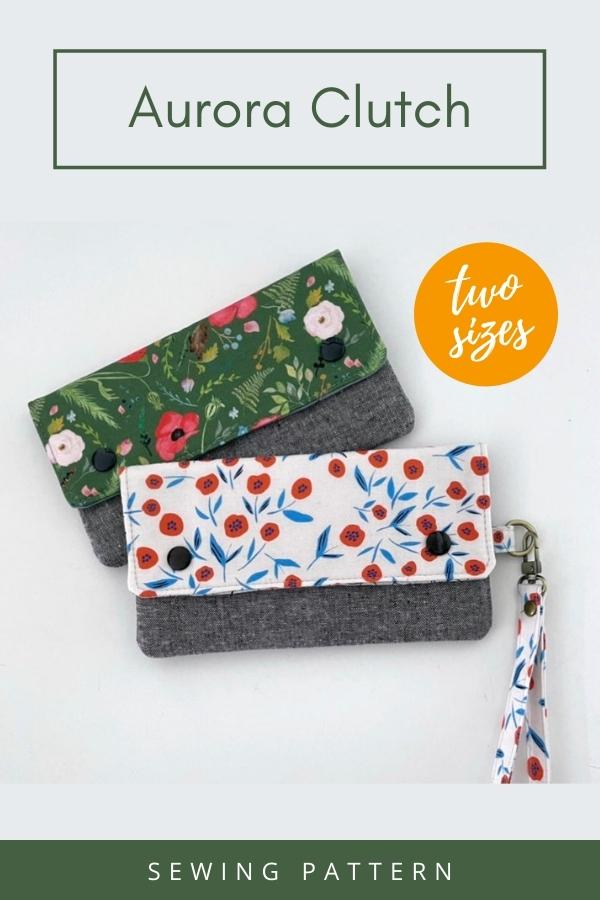 The Aurora Clutch is a perfect everyday wallet/clutch/wristlet bag that comes in two different sizes.
The Aurora has card slots on the inside giving you a special place for your bank cards and an ID. The small size features three card slots, and the large one has four.
There is also a wonderfully roomy front slip pocket which is great for receipts but can also keep one's glasses or even some phones safely inside.
The clutch also features a super handy zipper pocket on the back, a perfect place for cash, keys, or some other smaller items we need to carry with us.
And, there's the addition of an optional removable wrist strap as it's always nice to have choices.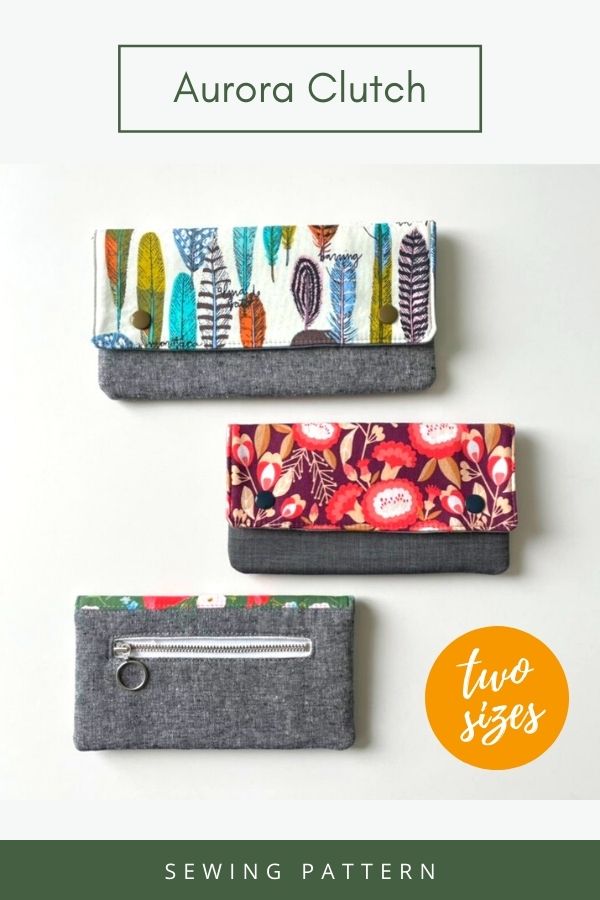 The Aurora Clutch has these special features:–
– Two sizes.
– A back exterior zipper pocket.
– Card slots on the inside of the clutch.
Skill level:
The designer rates her project as suitable for intermediate sewers.
Sizing info (approximately):–
Small = 4″ tall by 7¼" wide.
Large = 4½" tall by 8½" wide.
What is needed to make an Aurora Clutch (Fabric requirements are based on 42″ wide fabric):-
One FE (fat eighth) of fabric measures 9″ by 21″,
Fabric A (exterior flap, optional wrist strap) – One FE,
Fabric B (back exterior + inner pocket) – One FE,
Fabric C (lining + card pockets + zipper pocket lining) – 1/4 yard,
Interfacing (Pellon SF101 or Vlieseline G700) – 1/4 yard,
Fusible fleece (Pellon TP971 or Vlieseline H640) – 1/8 yard,
Zipper – 5″ long metal or nylon zipper for the small size,
6″ long metal or nylon zipper for the large size,
Kam Snaps or 15mm heavy-duty snaps – two (2),
1/2″ swivel hook (optional) – one (1),
1/2″ D-Ring (optional) – one (1),
Double-cap rivet (optional) – one (1),
Zipper pull (optional) – one (1),
A zipper foot for your sewing machine,
A setting tool for Kam snaps or heavy-duty snaps,
A rivet setting tool (optional),
A sewing machine.
The designer provides a free video tutorial on how to add a zipper pocket to one's bag or pouch. This will help you get the perfect result with your zipper pocket on the outside of this bag. You can watch the YouTube video by clicking on the play button below.
With the pattern, you will receive twelve pages of clear, easy-to-follow step-by-step instructions and color photos to guide you in the process. Please note, this is a MEASURE AND CUT PATTERN meaning all pattern pieces are cut using a cutting mat, rotary cutter, and ruler. No templates are needed to make this pouch!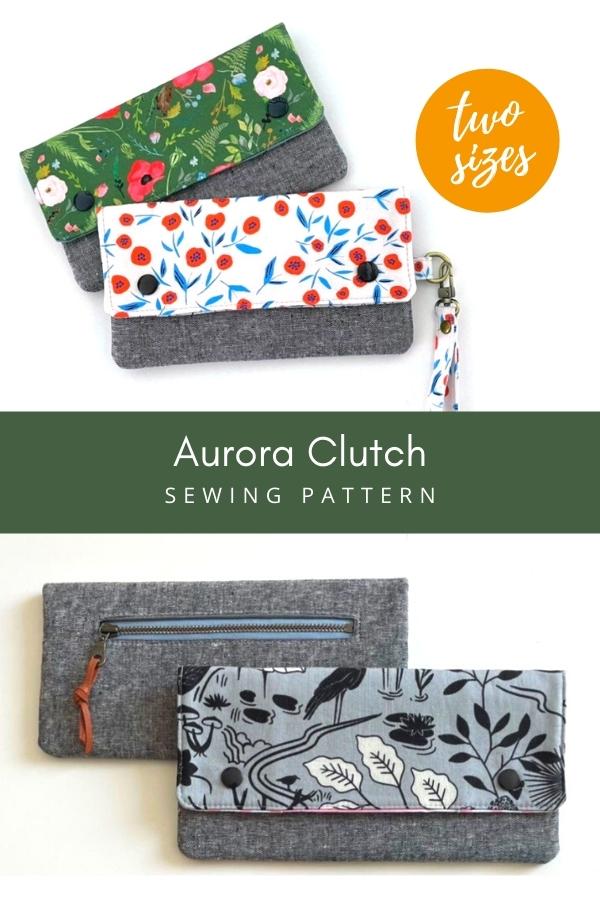 If you would like to download the pattern you can click on the blue button below.
And if you would like to see other bag sewing patterns from this designer then you can click on the red button below.
See more patterns from this designer here
Want more wallet sewing pattern ideas?
If you love
sewing wallets
but this one isn't quite right for you, then don't worry, we have LOTS more wallet sewing patterns for you to choose from. Check out just a few from our selection here.