Watch Craftsy classes for FREE
|
All posts may contain affiliate links.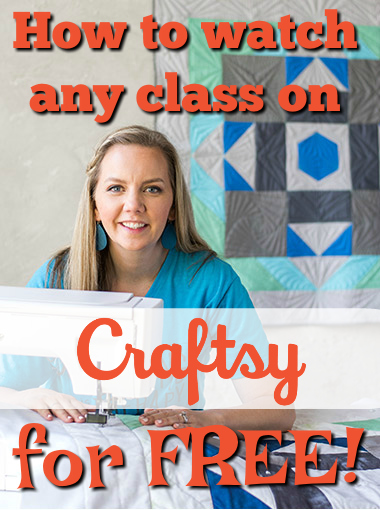 If you love to sew or quilt, or are in any way crafty and creative then you are most likely to be a fan of the Craftsy website. Not only can you learn amazing new skills from beginner through to a very high level through their classes but its one of the best resources online for finding free bag patterns. And lots of other free and paid sewing patterns too.
If you've not been to Craftsy for a while, you might not know about their latest offer. Things have changed up a bit from the start of this year, and now you can, of course, continue to buy all of the classes that you love and want to watch as usual, but there is also a new offer.
The Craftsy Unlimited Subscription Offer
Dive into thousands of hours of expert-taught videos and bring your best ideas to life. Whether you love stitches, swatches, pasta or paint, you'll never be without a source of inspiration.

New and exclusive content released weekly for Unlimited members only
600+ of the world's top creative experts
Join a community of 13 million other makers to share your projects
Access from any device, anywhere, anytime
1,300 expert-taught classes
Special member offers on supplies, recipes, patterns, and more!
Free sewing patterns!  Unlimited members get free access to sewing patterns that you usually have to pay for. There are 20 patterns included for the month of January.
What is Craftsy Unlimited?
Unlimited is a new subscription model where you can watch as much as you like, take as many classes as you like, for one monthly fee. Watch all of the included classes at any time, without having to pay for them separately. Craftsy Unlimited gives you access to thousands of hours of video crafting tutorials in categories like knitting, baking, sewing, quilting, crochet, cooking, and much, much more!  So now you don't need to think twice about a class – is it right for you? Should you buy? It doesn't matter when you are Unlimited, you can watch it and see if it's right.
How much does it cost?
In the US, you can sign up for a monthly plan at $14.99/month, or an annual plan at $120/year, not including any applicable local taxes. That's just $10 a month to watch as many classes as you like!  If you're outside of the US, there is international pricing in your own currency.
What if I have already purchased a class?
Not to worry — Craftsy.com is not going away! You can still purchase individual classes and all of your purchased classes will be available in your Class Library on. Unlimited includes all of Crafty's classes, as well as 100s of new classes and exclusive original content.
FREE Trial offer
Just so you can decide before you decide, Craftsy are offering every one a 7-day free trial of the Unlimited program. So in 7 days, take a vacation from work, turn off your cell, and WATCH as many classes as you like for FREE. If you then decide it's been so darned awesome that you want to learn more, watch more, sew more – then continue on to the monthly or annual subscription. If you don't want to continue, Craftsy make that easy for you too, and there is nothing to pay.
How do I sign up?
To sign up for Craftsy Unlimited, you'll need to create an account with your email address and password. Once you do so, you'll start with a 7-Day free trial – you're not charged until that's over, so you can take some time to see if this is right for you! If you already have a Craftsy.com account, you can use that same email and password here. Click the Start Free Trial button to get things going.