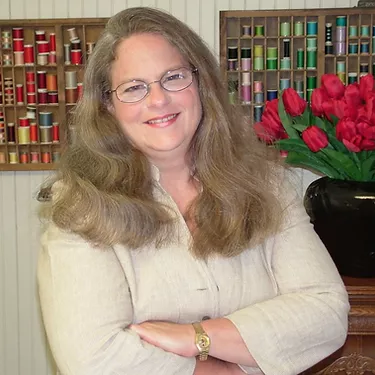 Sewing has been my life-long passion which began in my early childhood. Do you remember the cardboard sewing cards our mothers gave us to practice hand stitching on? I would stitch them over and over until my
mother finally let me graduate to a hand sewing needle, thread and fabric. Both my grandmothers were avid sewers which included crocheting and knitting. I learned all I could from them. My fondest Christmas memory was receiving hand-crocheted sweaters from one grandmother each year. She instilled in me the value of both giving and receiving a beautifully hand-crafted item.
At 12, I began to machine sew on my mother's old Singer and quickly fell in
love with garment construction. Since that time, I have been involved with
just about every type of sewing there is. Sewing has been my roots, but I
have found joy in creating through other mediums including soap making,
scrapbooking and there is so much more to explore.
Today, my two greatest passions have been teaching through my YouTube
Tutorials and designing fun and useful patterns for people to sew and
enjoy!