Maker's tote bag – for crafters
|
All posts may contain affiliate links.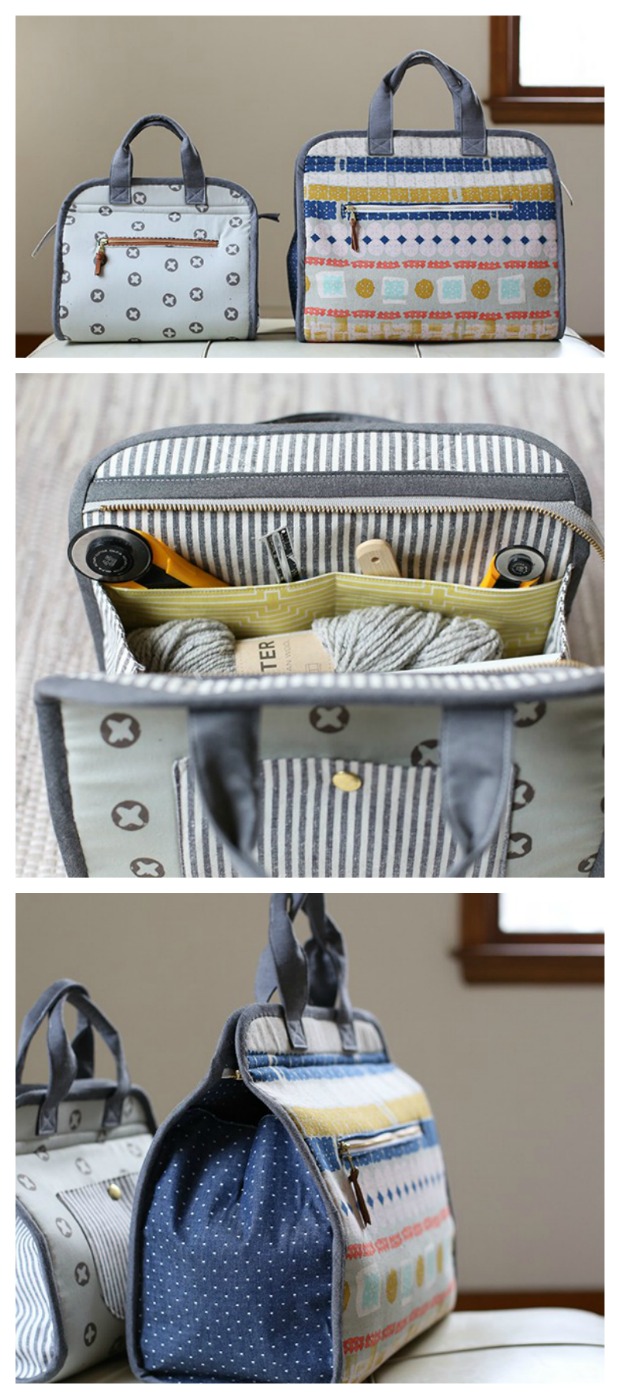 Hello gorgeous! We admit we've not made up this one yet at Sew Modern Bags but it's on our to-do list for sure. This pattern from Noodlehead comes in two sizes and is designed as a Maker's Tote. Ideal for crafters of any kind, carry your sewing supplies, knitting project or even art supplies.
This bag comes in two sizes and we think the larger size could also work as a smart diaper bag and the smaller one would make a great purse.  A modern spin on the traditional doctor's bag, but no frame is needed, just your regular bag making supplies.
What you will need to make this bag:–
Exterior fabric, 5/8 yard (1/2 yard)
Lining fabric, 1 1/4 yards (1 yard)
Accent fabric (includes binding and handles, 1/2 yard
Fusible Woven Interfacing (20″-wide), 1 1/2 yards
Fusible Mid-weight Interfacing (44″-wide), 1 yard
ByAnnie's Soft and Stable (or Pellon FlexFoam -20" wide),  1/2 yard or 1 yard of Pellon
18" separating "Jacket" zipper (14" for small)***
10" non-separating zipper for tote back (7" for small)
Recommended Fabrics: Cotton Canvas, cotton/linen canvas, denim, twill, home decor quilting cotton for the exterior of the bag. Quilting cotton for the lining and pockets.
Not a free pattern, but we think this one is well worth the investment.
Even more tote bag sewing patterns you won't be able to resist
Want even more tote bag sewing patterns? These are the top best selling tote bag patterns in our store. Take a look at the tote bag category on our shop page for even more!