Fusible Fleece Yummy Mummy Candy Bag FREE sewing tutorial (+ video)
|
All posts may contain affiliate links.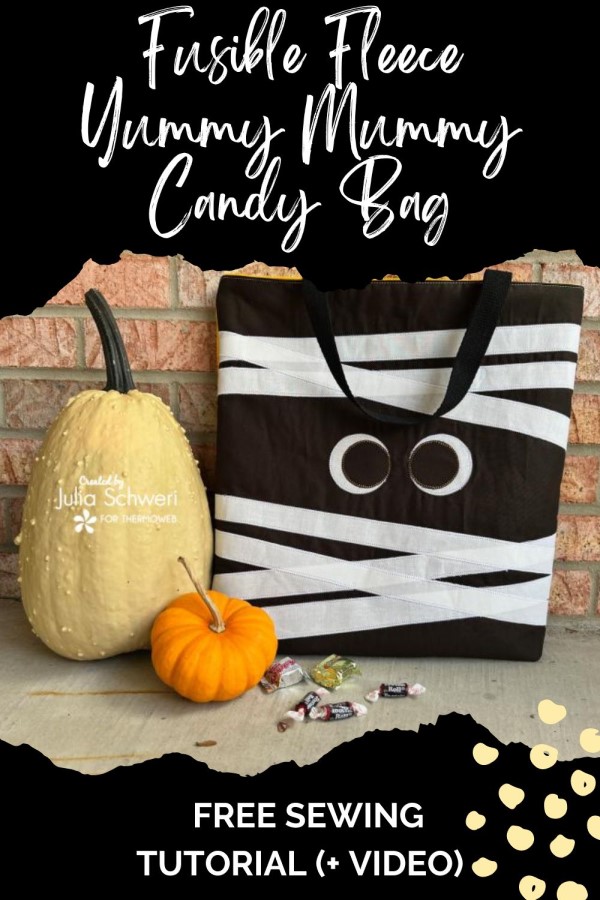 This is the Fusible Fleece Yummy Mummy Candy Bag FREE sewing tutorial (+ video) from the designer Julia Schweri and shared on the therm.o.web blog.
Here's your chance to make this fabulous treat bag for your little one, perfect for Halloween, but fun no matter what the time of year.
Besides producing a written tutorial the designer has also made a YouTube video. You can watch the 5-minute FREE YouTube sewing video by clicking on the play button below.
What's needed to make this Yummy Mummy Candy Bag:-
HeatnBond Lite Iron-On Adhesive – 18″ by 7½″ (Seven 1″ strips) and enough for the black and white eyes,
SpraynBond Pattern and Stencil Adhesive,
HeatnBond Fusible Fleece – Two 17″ by 16″ pieces,
Outer main fabric – Two 18″ by 17″ pieces,
Lining – the designer used canvas fabric for more stability for all the candy! If you use regular quilting weight fabric, add additional interfacing such as fusible fleece or medium weight fusible interfacing.
White fabric for mummy strips. (as many as you like),
Additional fabric for the eyes: White and Black
Cotton Webbing for handles