Fold over zipper top purse – free
|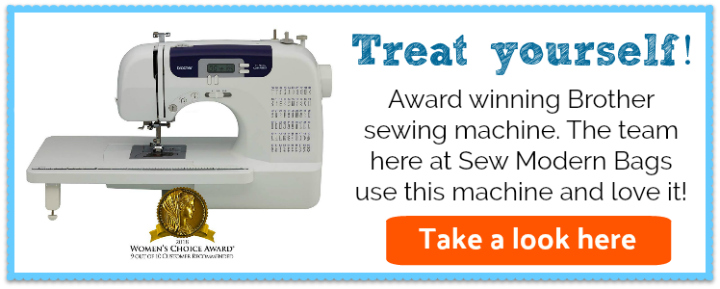 Big bags and totes are great for big jobs, but when I'm out and about, I like a compact purse. I want to be able to sling it over my shoulder with enough room to hold the necessities, plus just a little extra. If things are too big and bulky, I spend the entire outing looking for somewhere to stash my bag. Or… I invariably knock over something breakable in the store! Today's cute little fold-over bag is a perfect size and shape. Standing up straight, it's a generous 9″ x 9″; folded down, it becomes just 6″ x 9″. The bottom of the bag is layered with batting and lightly quilted to give the lightweight cotton more substance and stability.
Unzip the top and drop in whatever you need – from a wallet and keys to your phone and a journal or even some snacks for the day. Zip closed and fold it down to size. Because the top fold position is flexible, you can fill 'er up full or go light duty. This example used a great Coats metal jeans zipper, which added a nice look against the softness of the cotton fabric. It's a great example of how delightful it can be to mix different textures. The zipper also looked good with the antique brass D-rings that holds the shoulder strap.
Materials needed:
This foldover bag from Sew Mama Sew comes with full step by step photo instructions and should be ready to use in no time!