Roomy Shopping Bag With Cute Rope Handles – FREE Pattern
|
All posts may contain affiliate links.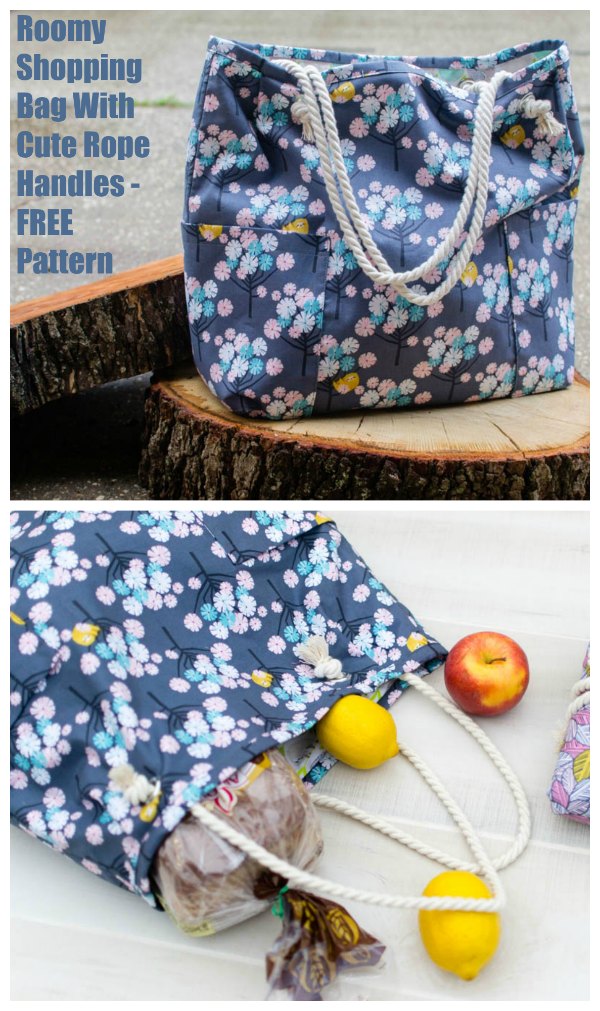 This super popular designer has again produced a free pattern for us all. This time it's for her Roomy Shopping Bag with cute rope handles.
To keep things simple, the designer has made the bag design the same inside and out, which means it is reversible too, and you benefit from a good number of pockets inside and out.
Having matching pockets on reversible bags does make things awkward. The big wrap-around pockets are awesome on the bag exterior and they don't gape at all.
However, pockets in the same place on the inside of the bag is the awkward part. They did gape open and weren't great for organizing stuff. So the designer sewed a dividing line on the interior pockets only. The bag's inside pockets are now totally usable, plus the bag is still reversible and cute both ways. You decide on the size of the pockets you need based on what you like to carry. It's totally customisable.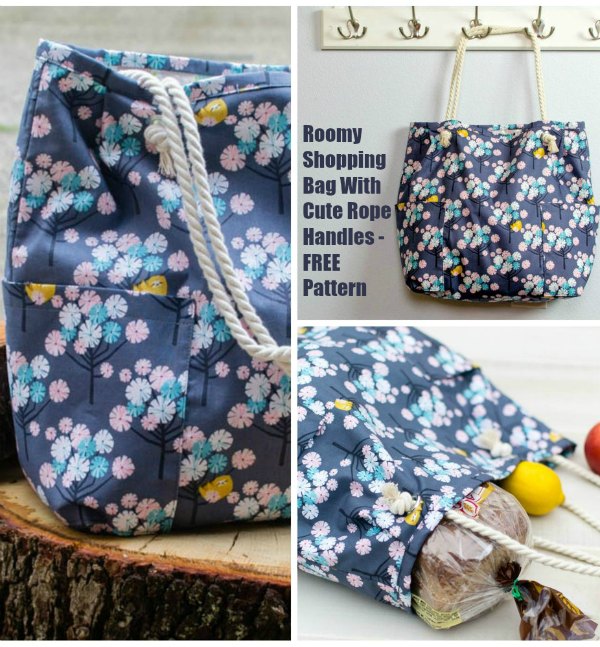 Bags with rope handles always look awesome but if you are not a fan then you have lots of other options to add handles of your choice.
An extra sewing tip from the bag designer = "I have to move my bag and tools to a tile or concrete floor to set the grommets. Hammering them with a counter or wood floor underneath doesn't provide enough pressure for the tools to squeeze the metal pieces shut around the hole. Plus I am likely to damage my counter or wood floor that way".
What you will need to make the Roomy Shopping Bag with cute rope handles
1 yard of fabric for the bag exterior
1 yard of fabric for the bag interior (or 1/2 yard for the pockets and 1/2 yard for the lining)
1/2 yard of canvas fabric for the interlining (or 1 yard of your preferred interfacing)
1 yard of lightweight fusible interfacing for the pockets
64" of pretty cotton rope for the handles (I found mine at Joann's in the trim and embellishment aisle)
Four extra-large eyelets, which the designer advises are easy to install
More Tote Bags to sew
Everyone needs (a lot) more than one tote bag. They are a staple pattern in every sewing pattern collection and so versatile and adaptable. Check out a few recent tote bag patterns to sew from our store.