Easy Drawstring Backpack – FREE pattern
|
All posts may contain affiliate links.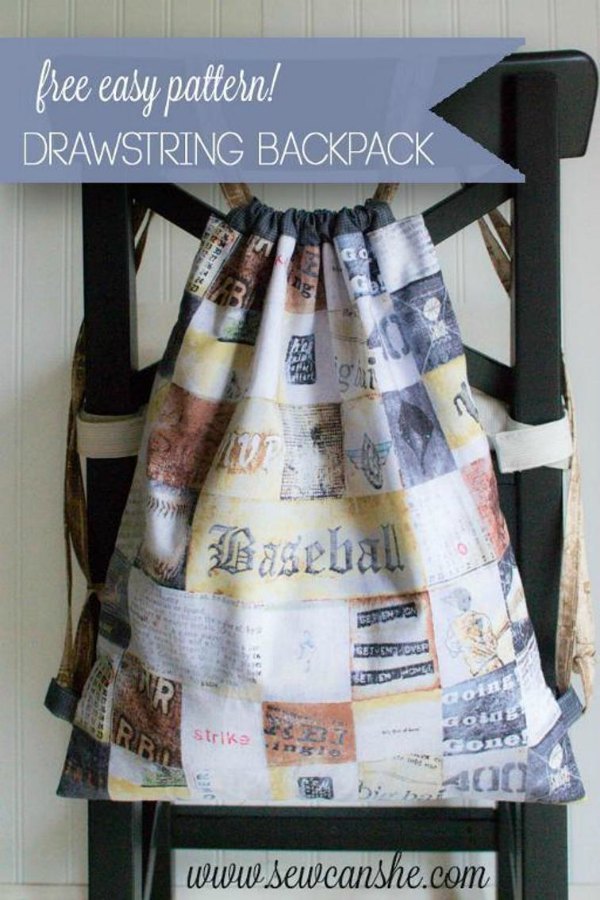 With this free Easy Drawstring Backpack pattern, you can make a lined backpack for your daughter and son, and friends and family. It's not very often that you can sew for a boy or a girl.
This is an easy project which is perfect for beginners.
Quilting weight cotton is the perfect material, however, you could also substitute a heavier fabric for the exterior.
When the designer first planned her pattern she wanted to design them entirely out of fabric. She really wanted to make something without going to the store for special notions, so the casings, loops, and drawstrings are all made of fabric. Of course, if you wish you can substitute ribbon, twill tape, or grommets for the loops. And again if you wish you could use bias trim stitched together, ribbon, or rope for the drawstrings. However, if you have plenty of fabric in your stash then this is the perfect pattern to make an all-fabric backpack.
One more great thing about this project is you can sew the backpack from just one fabric, or use 4 or more fabrics as the designer did.
When finished the Easy Drawstring Backpack will measure approximately 17" tall by 14" wide.
What you will need to make this Easy Drawstring Backpack
1/2 yard of exterior fabric
1/4 yard of fabric for the strap or 4 yards of clothesline rope
1/2 yard of lining fabric