Description
Isn't the Saltwater Pouch the cutest?
This pouch is the perfect companion to the Saltwater Shoulder Bag or just on it's own. It holds so much for being such a petite little cutie. It can be made from various fabric mediums such as more pliable faux leathers, vinyl, cork fabric or quilting cotton.
Sizing info:
7″ wide by 5″ high by 3¼" deep.
Skill level:
This pattern is for the ambitious beginner. The designer says you'll need to know how to install zippers and be open to using bias binding. She says using bias binding is not as hard as you think and is very forgiving on the inside of the pouch. You'll need to choose your materials appropriately. And if you run into any difficulties she also has a very helpful Facebook group that she is active in, with super helpful group members.
Video tutorials:
There are two. The first one is 45-minutes long from Ashtown Creations that you can watch below:
And the second is 43-minutes long and is from Seams Legit and you can watch that one below:
Recommended Fabrics and Fabric & Hardware requirements:-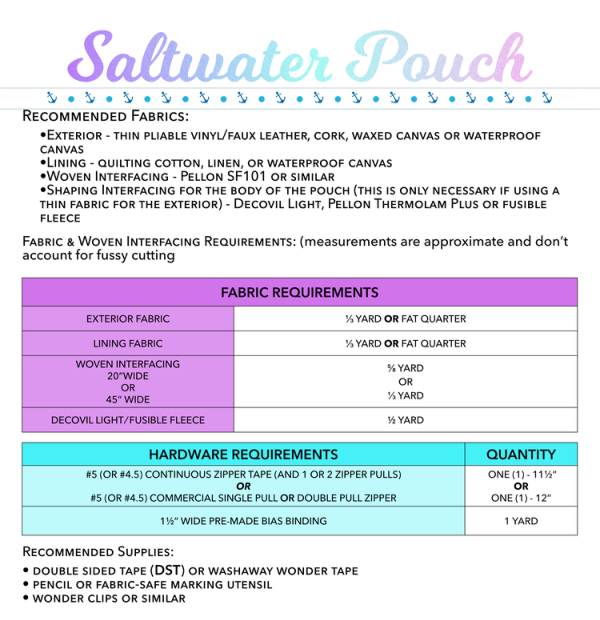 This PDF pattern includes:
Full sized pattern pieces,
A cutting list (to use instead of the included rectangular pattern pieces – to save the trees!),
Colorful and clear diagrams for most steps,
An A2 copy-shop file,
Labels to keep track of your cut pieces,
Two video tutorials.
Download:
Please note this is a digital download PDF file, not a paper sewing pattern. Please download immediately after check out.